If you were checking the news last month, you might have read about the "Shut Down DC" (also stylized as #ShutDownDC) climate strikes that took place in Washington, D.C. and around the world during September's Global Climate Strike week.
Those actions were a sign of what was to come in October—two weeks of planned Extinction Rebellion protests designed to shut down dozens of cities around the world. As Chris Hedges recently wrote in Truthdig:
Monday, Oct. 7. marks the start of what the British-based group Extinction Rebellion is calling the International Rebellion. Thousands of people will occupy the centers of some 60 cities around the globe, including Madrid, Amsterdam, Paris and New York, to stage nonviolent occupations of bridges and roads for at least a week …

The group stresses what it calls a "pre-social-media age" strategy for organizing. It has created decentralized structures to make decisions and issue demands. It sends out teams to give talks in communities. It insists that people who participate in the actions of Rebellion Extinction undergo "nonviolent direct-action" training so they will not be provoked by the police or opposition groups.

An excerpt from Time to Rebel (article by Chris Hedges)
Extinction Rebellion's strategy is working. The events in October are so massive and disruptive that even the Washington Post is covering them in the context of a global movement.
The Shut Down DC actions also sparked the interest of U.S. mainstream media and press, interrupting (if only for a few hours) the steady stream of Trump-inspired conspiracies, murder mysteries, and sex scandals that dominate corporate channels of information. "Climate Protests Snarl Traffic, but Washington Still Goes to Work," The New York Times observed regarding the strike on Monday, September 23. "Climate change protests snarl DC traffic as bizarre scenes unfold in capital," muttered Fox News. "Climate activists snarl Washington, D.C. rush-hour traffic in push for action," noted The Boston Globe.
Some news organizations mustered enough creativity to describe what had happened without using a word that is usually associated with dogs. The Hill went with "Protesters shut down DC intersections to demand shift to renewable energy," while Al Jazeera English produced one of the better videos about the shut down, allowing climate rebels to speak about their demands for more than a few seconds.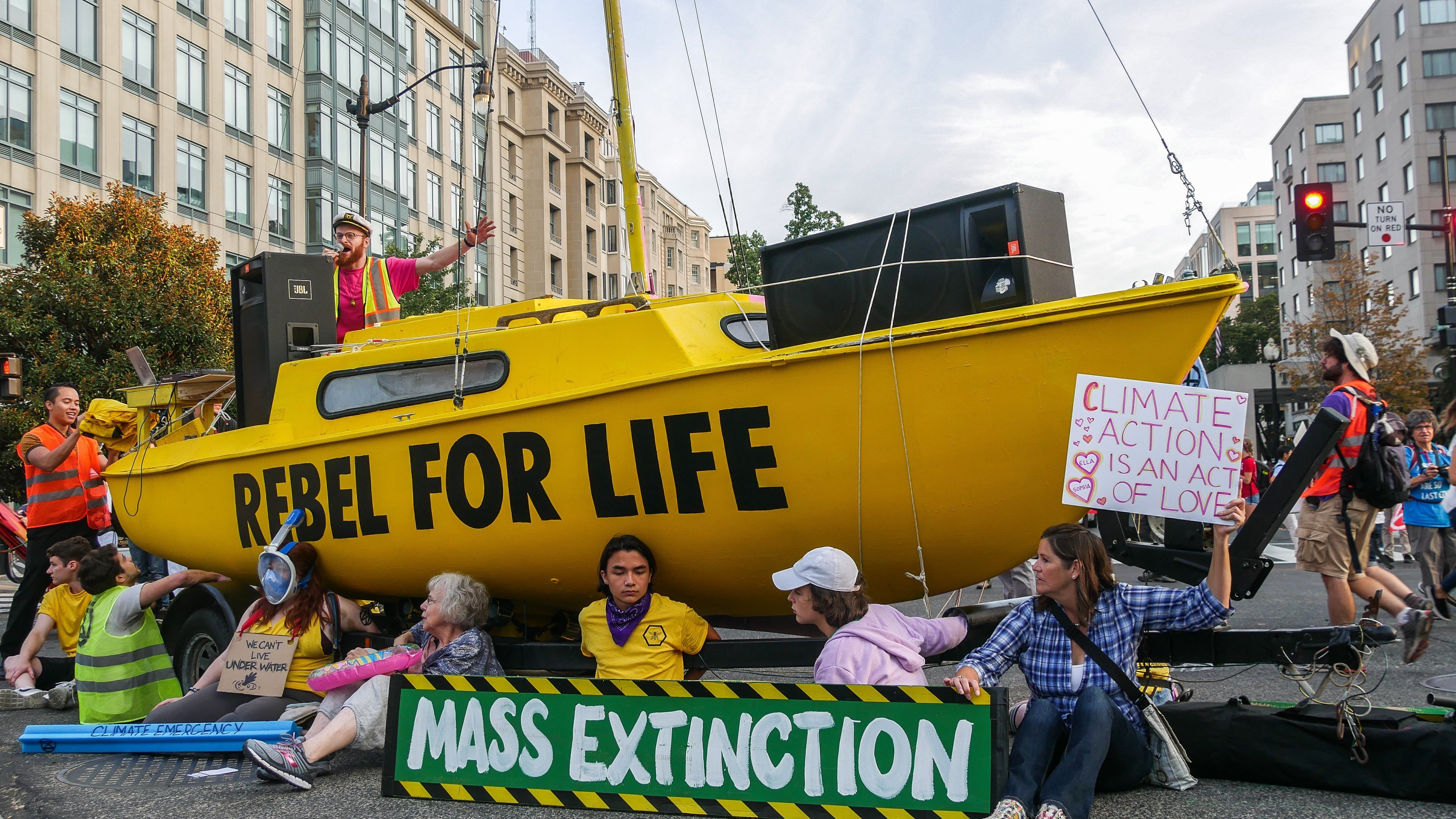 As someone who covered and participated in September's strikes, I can only provide my personal takeaways and photos. But rather than characterizing the events as snarling traffic for a few hours, I will analyze them in the context of a growing, intersectional movement of climate activists who are ready to address the gridlock and decay in American politics—not just through online petitions and op-eds—but through real life acts of organizing, solidarity, creativity, and non-violent protests on the streets of D.C. and around the world.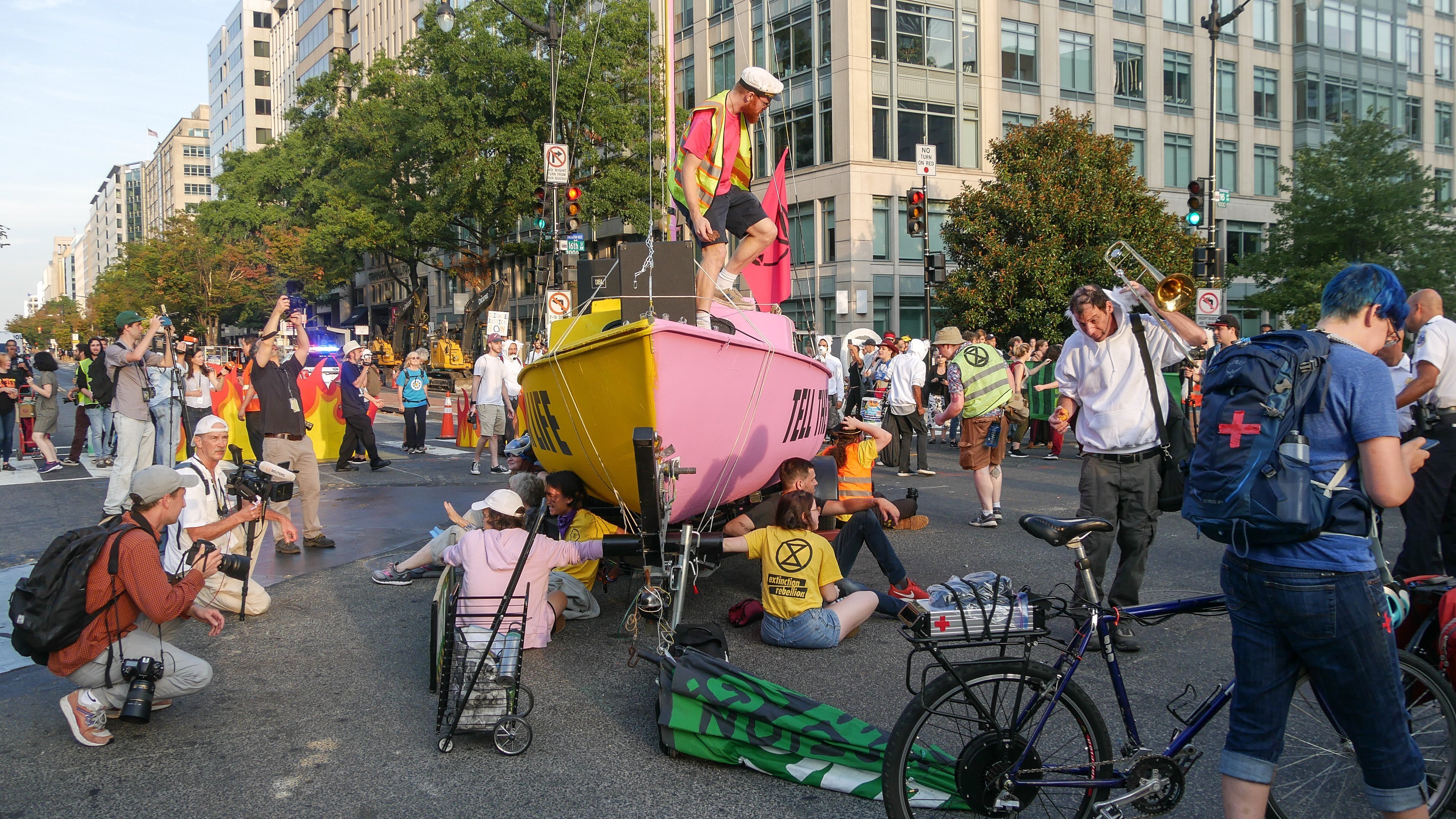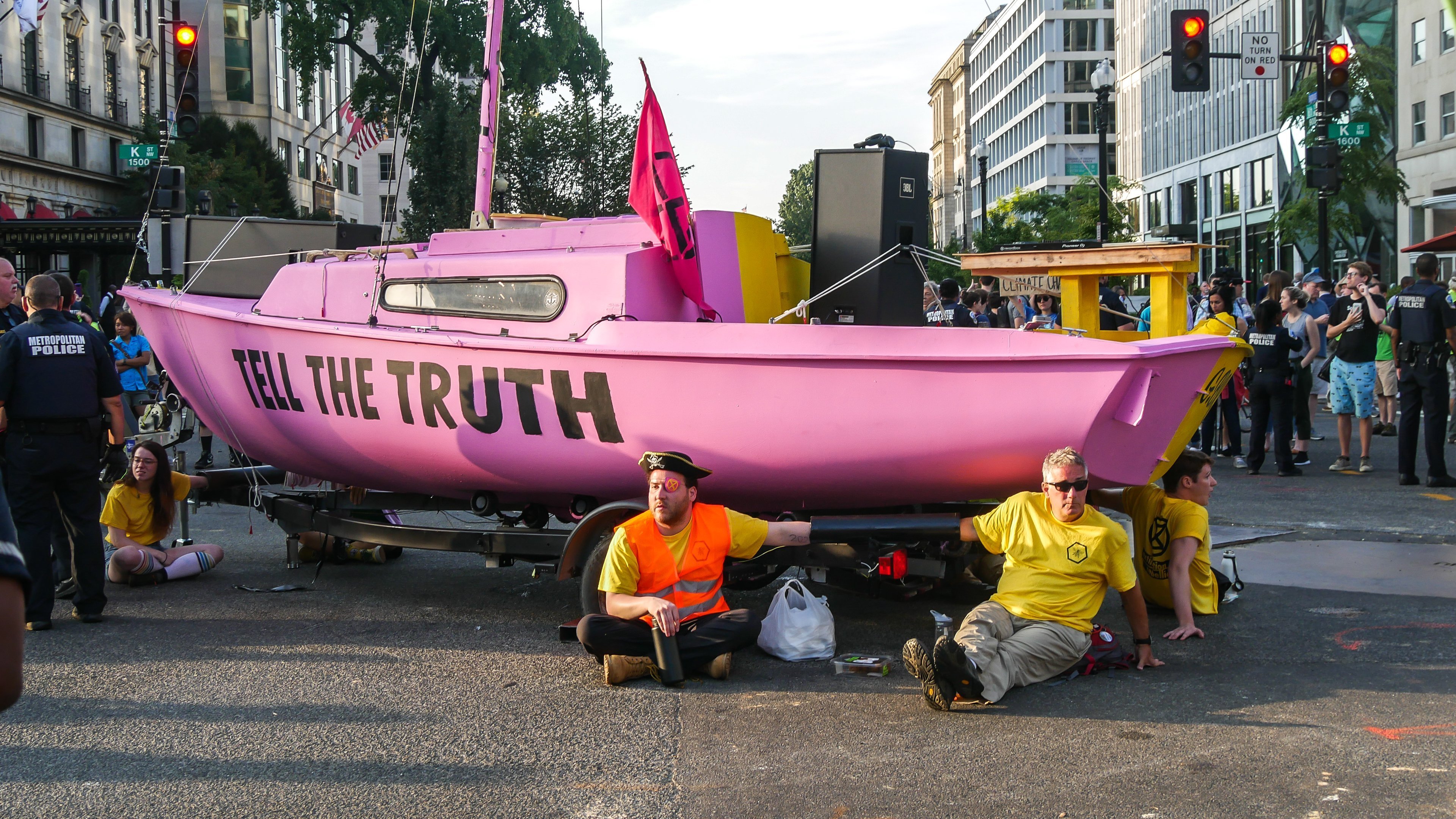 It's important to note that the Shut Down DC protests didn't happen in a vacuum. They were the result of numerous meetings and training sessions between 22 affinity groups, local nonprofits, and citizens from all backgrounds. Although news agencies were most interested in the spectacular manifestations of the strikes, the coalition's work extends far beyond the events on the 23rd and 27th. In a short amount of time, Shut Down DC was able to mobilize union members, Black Lives Matter, immigrant justice activists, the LGBTQIA+ community, healthcare workers and people of faith to come together alongside climate justice activists.
We gridlocked rush hour traffic in the nation's capital, took control of the public narrative through national and global press coverage, and showed the world—and ourselves—that we are ready to shut down business as usual for climate justice.

#ShutDownDC coalition
It's useful to compare the coalition's actions in real life and how political discourse often plays out online. Unlike the elitist, toxic, and overall manipulative atmosphere we've come to expect on platforms like Twitter and Facebook, Shut Down DC facilitated non-violent training sessions (an essential aspect of the the shut down), linked up with legendary activists, and started to build capacity to organize more powerful and disruptive actions in the future. For me, and I suppose other fellow activists, working with the coalition turned "democracy" (something I've read a lot about, but seldom felt) into a palpable experience. Compare that to the rigged world of digital likes, followers, and blue checks that seems to dominate our news cycle and political reality.
As we marched through D.C., bystanders and 9-to-5 workers looking down from their office dwellings inevitably had to reflect on where they stand on the climate crisis. Perhaps many of them realize that isolated individual and institutional success means absolutely nothing when our house is on fire. How long can we wait for the ruling class, business "community," and nonprofit sector to mitigate, triage, and workshop their way out of the climate crisis?
"We've done permitted rallies and marches, we've petitioned, we've drafted legislation, we've done symbolic civil disobedience, we've locked ourselves to drilling equipment in the back woods to shut down fracking sites and pipeline routes where normal people wouldn't be inconvenienced," the Shut Down DC coalition stated in a FAQ regarding the decision to block major interceptions, "And right now we're further away from serious action on climate change than we were three years ago. Young people around the world have called for bold and dramatic action to protect the world that they are going to inherit. We think it's time to do something different, we're ready to take that step and we invite you to join us."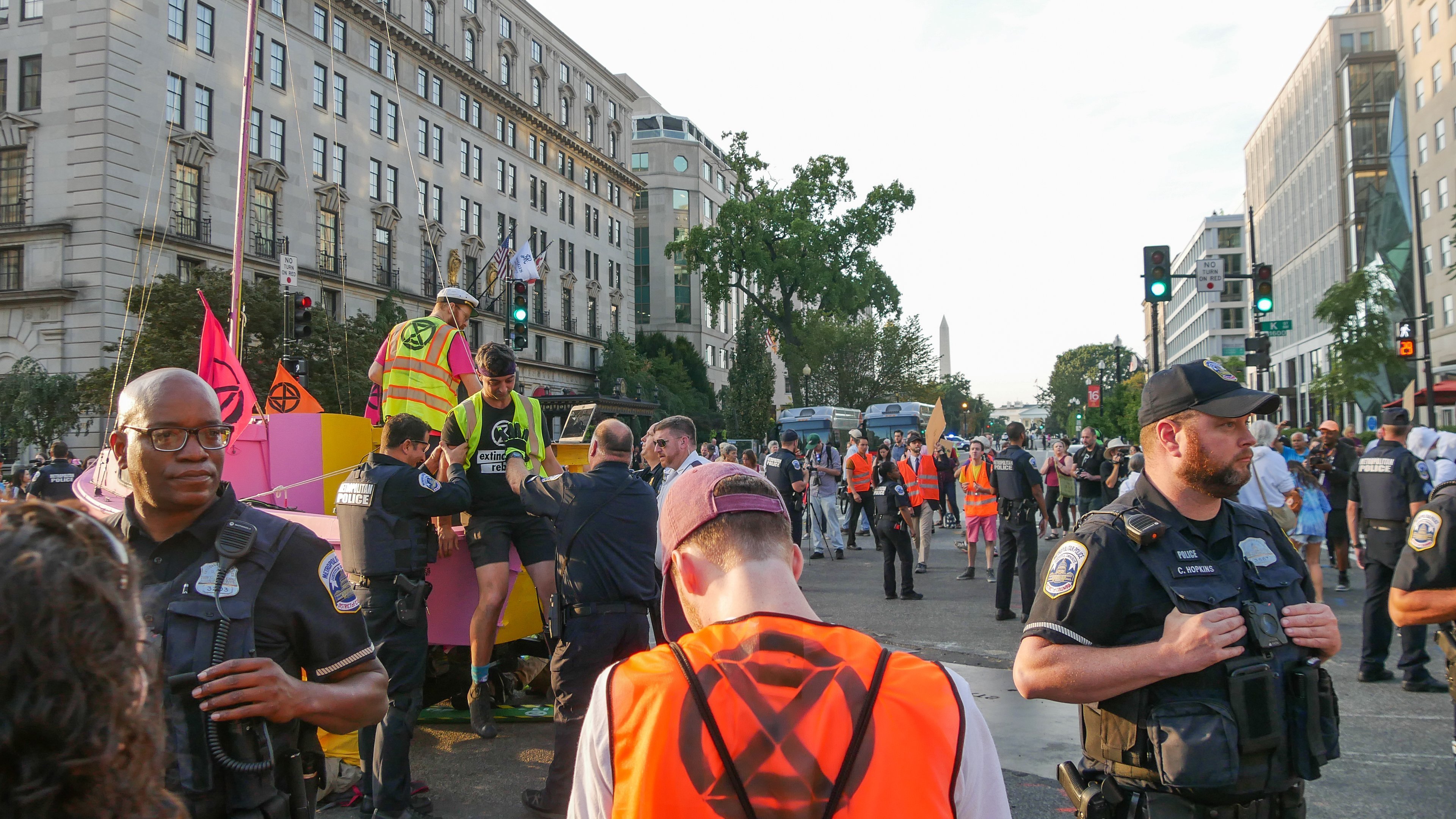 Although we live in strange times, we shouldn't take for granted that people like you and me are risking arrest to draw attention to the climate crisis. The selfless and heroic acts of those activists, especially non-white climate rebels who are disproportionately targeted by police, is a reason for each of us to reflect on our actions as the clock keeps ticking toward doomsday.
As a result of the actions on September 23, D.C. police arrested 26 climate activists across the city. U.S. Capitol Police arrested six others near the Capitol. "While blockades were being deployed all over the city with limited police interference, police immediately took action to force Black Lives Matter out of the streets. Police arrived on the scene ready to make arrests, with more than 20 officers and almost as many vehicles. Within 10 minutes, police issued three warnings threatening to arrest anyone who dared to join the Black-led blockade. Eventually, police arrested six people at the Black Lives Matter blockade.," Shut Down DC stated in a Facebook post.
"We recognize that the costs and the risks of this type of bold direct action will not be shared evenly and the response of DC-area police displayed on Monday plainly demonstrates that the state is poised to retaliate most harshly against the communities most marginalized in our society," Black Lives Matter DC said in a statement.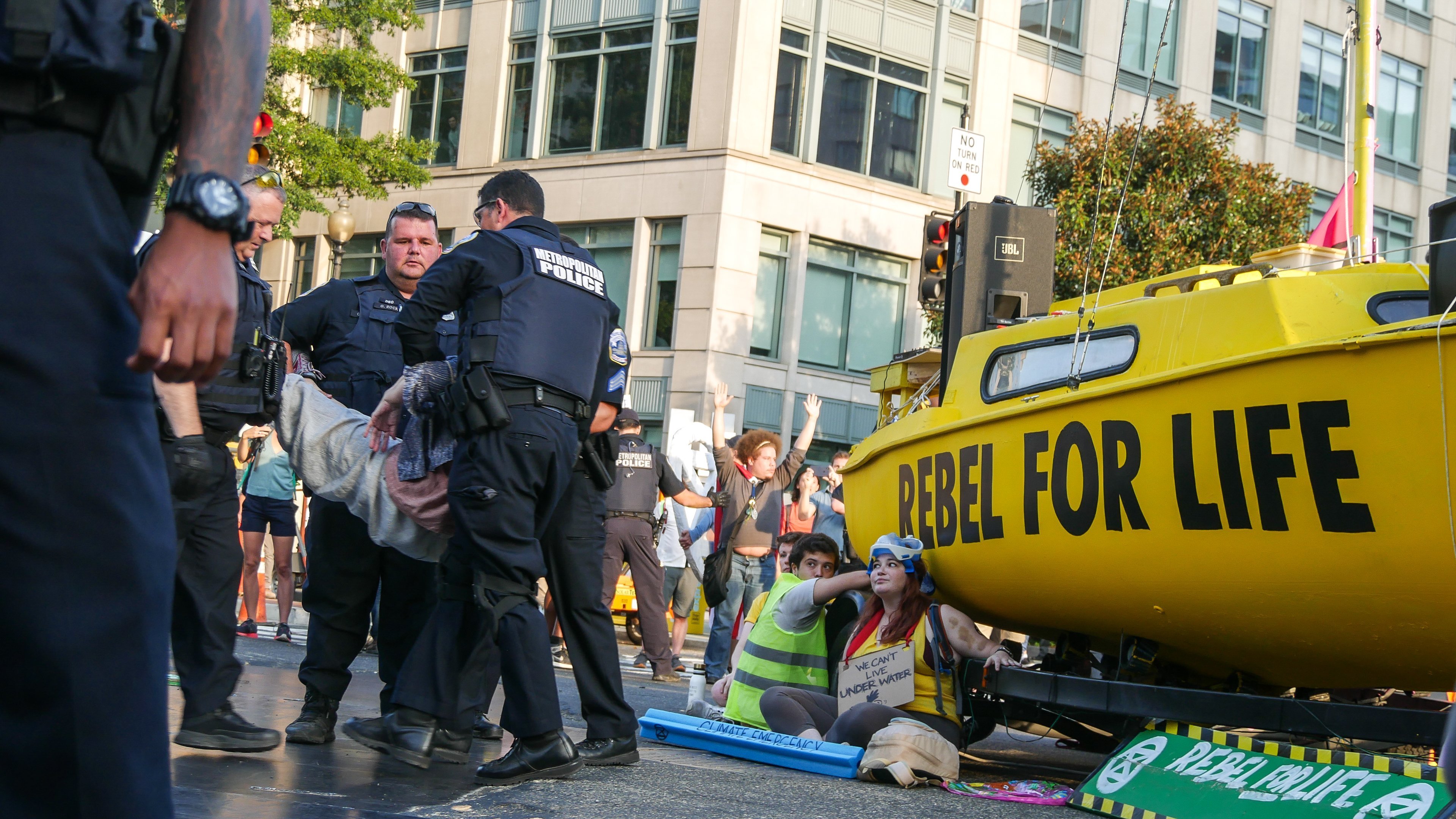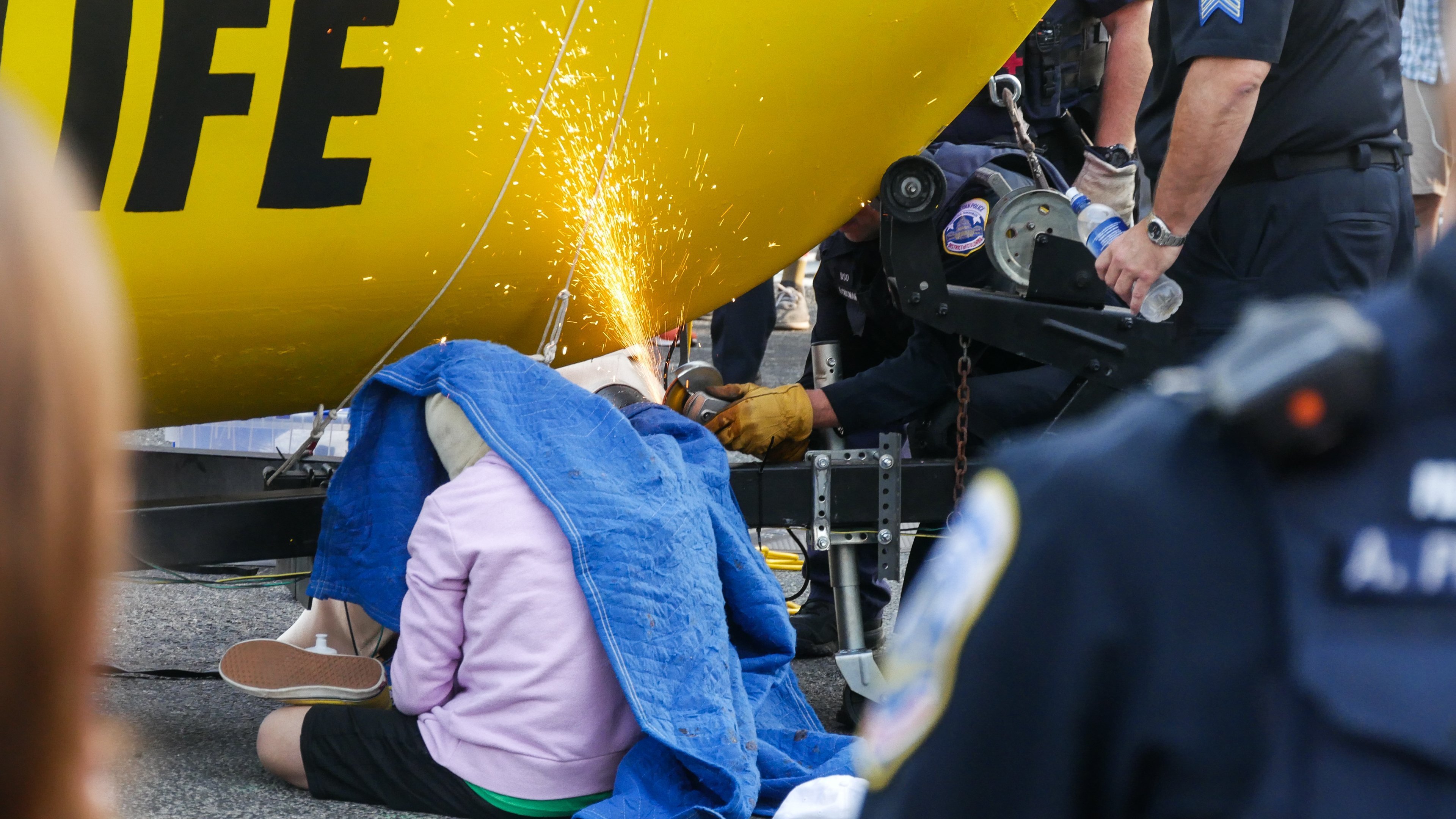 To understand what is happening in Washington and around the world beyond beltway media's press releases, we have to view the recent climate strikes in the context of growing anger among the younger generation toward their "leaders"—most of whom continue to place their political ambitions and fealty to corporations above the well-being of future generations. Since political corruption is at the core of so many issues that plague the U.S. today (grotesque income inequality, broken healthcare system, institutional racism, wars of aggression, money in politics, etc.) the urgency of the growing climate movement is a natural gathering point for those who've been fighting power and privilege, in its many forms, for decades.
Given that we only have 11 years left to prevent irreversible damage from climate change, the actions in D.C. and around the world signify more than "snarling traffic." They represent what happens when political systems actively ruin the future of millions in the name of profit—citizens of all causes join together to demand that we transform our economy to 100% clean, renewable energy in the next decade and phase out all fossil fuel extraction through a just and equitable transition.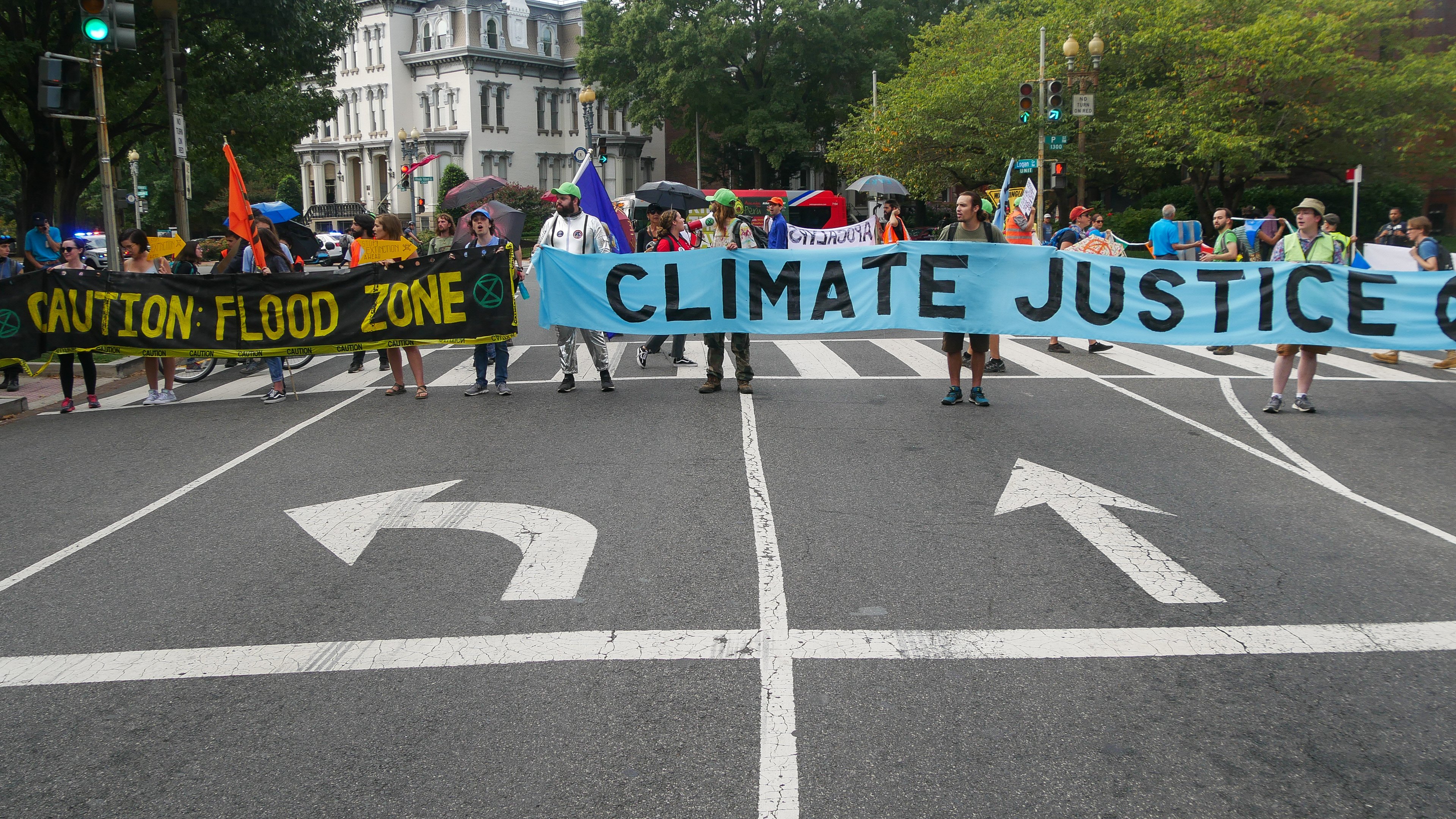 It's advantageous for corporate media to describe such demands as unrealistic and unattainable. Yet, this is not a counter-argument—it's a scare tactic that limits how we think about possible solutions. No one has all the solutions, but there's certainly a profit incentive to eliminate grassroots climate movements in their infancy, and downplay the urgency for climate action.
This cultural dynamic, heavily manipulated by corporate media, is what separates those demanding structural change when it comes to addressing the climate crisis, and those who spend their time cautioning against "idealistic" and expensive solutions, while waiting for "the Truth" or "the Plan" to emerge on televised debates and in-between commercials.
The "middle ground" stance on climate—if there is such a thing—is vanishing like the coastal areas throughout the U.S. that are already feeling the impacts of human-caused global warming. "By the end of the century, chronic flooding will be occurring from Maine to Texas and along parts of the West Coast," writes Laura Parker at National Geographic. "It will affect as many as 670 coastal communities, including Cambridge, Massachusetts; Oakland, California; Miami and St. Petersburg, Florida; and four of the five boroughs of New York City. The magnitude of the coming calamity is so great, the ripple effects will reach far into the interior."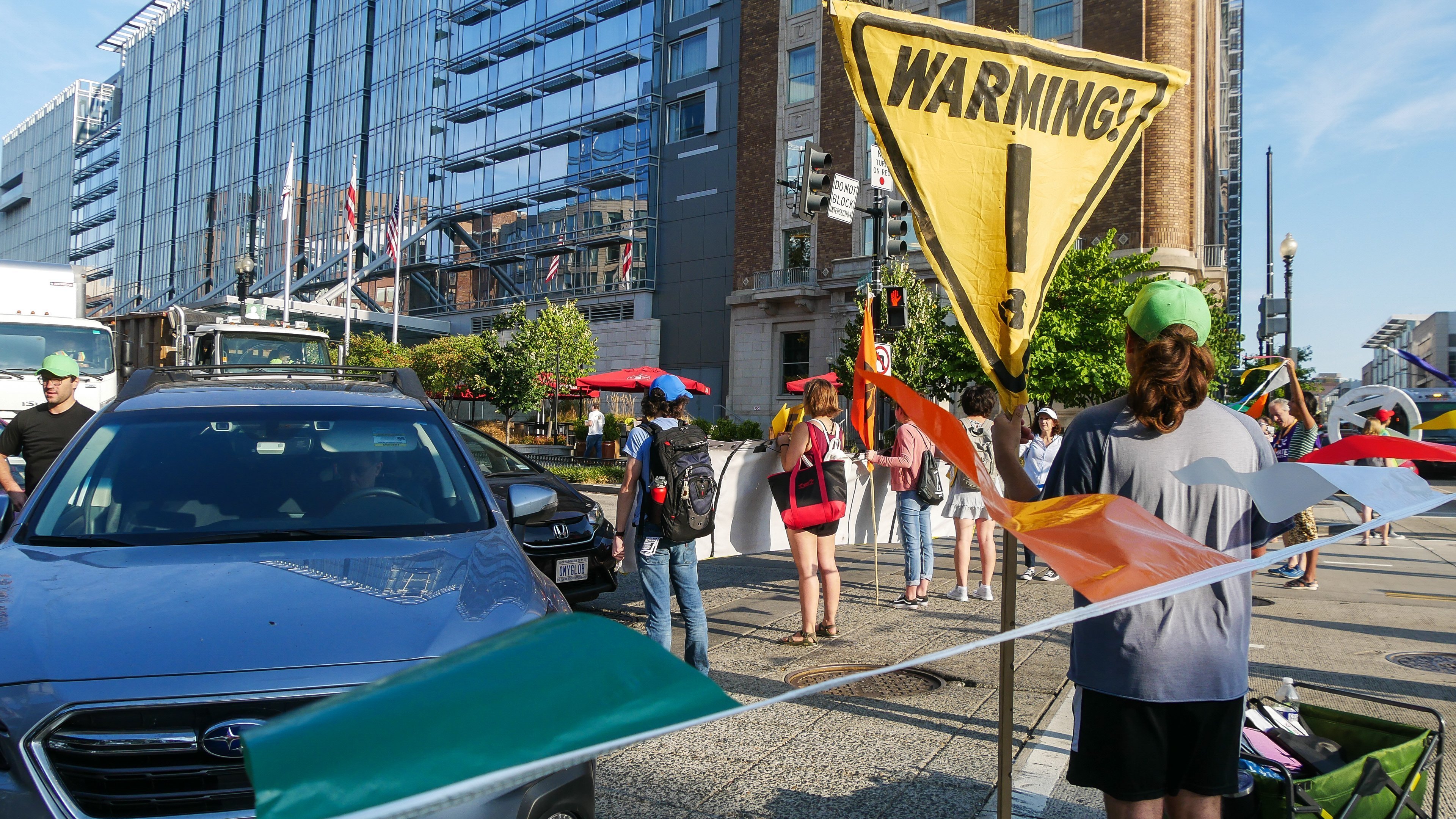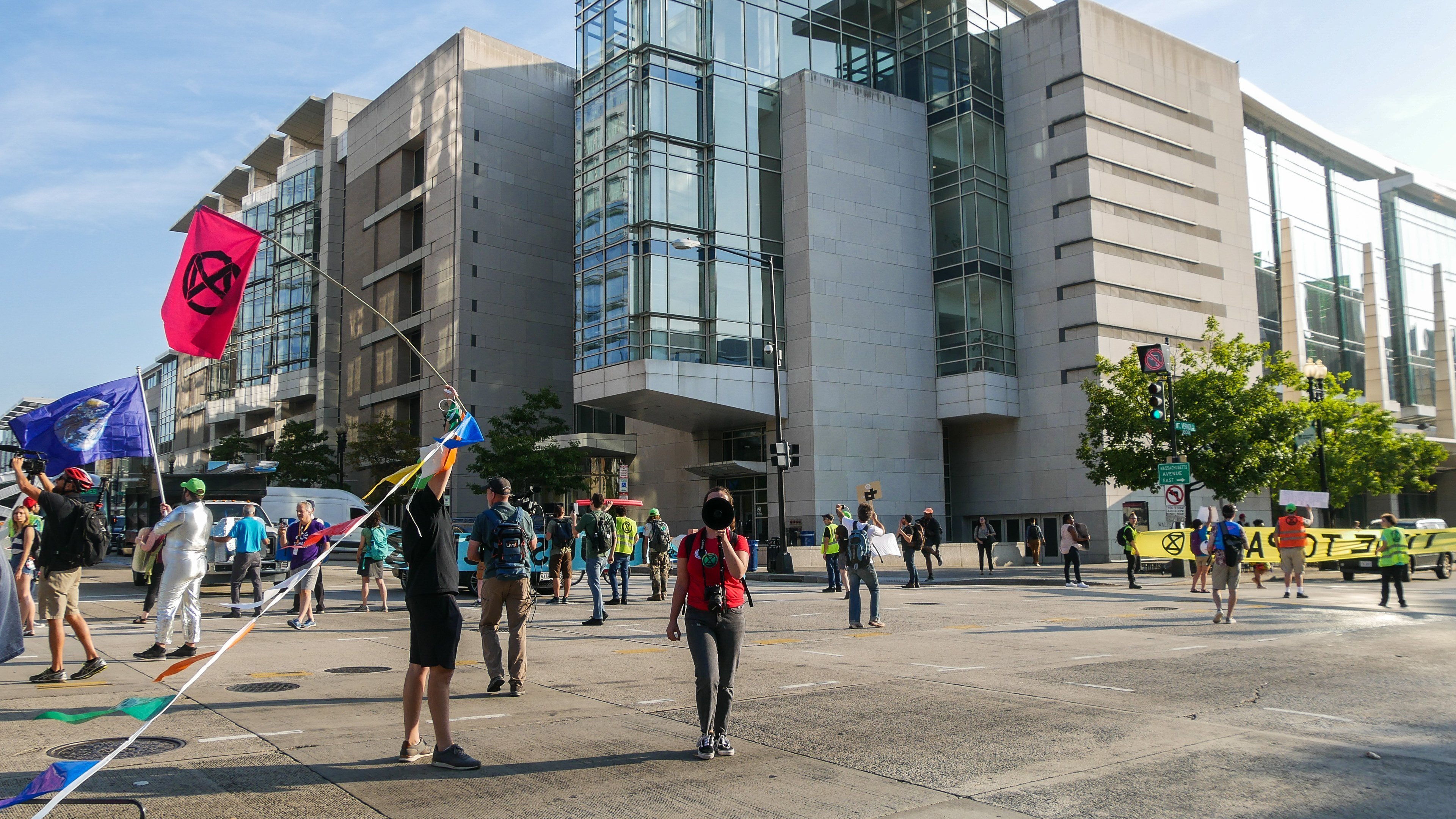 While protesters in D.C. were chaining themselves to the infamous pink and yellow boat and shutting down the streets of D.C, Greta Thunberg, a 16-years-old climate activist from Sweden, was addressing the U.N.'s Climate Action Summit in New York City. "You have stolen my dreams and my childhood with your empty words. And yet I'm one of the lucky ones. People are suffering. People are dying. Entire ecosystems are collapsing. We are in the beginning of a mass extinction, and all you can talk about is money and fairy tales of eternal economic growth. How dare you!," Greta told Summit participants in her historic speech.
When she was 15, Greta decided to spend her school days outside of the Swedish parliament, calling for stronger action on climate devastation. Together with other students, she organized a school climate strike movement under the name Fridays for Future.
Today, Greta is a voice for the millions of young people who are no longer willing to continue with business-as-usual. This won't be limited to the global actions which happened in September and October of 2019. In fact, the climate emergency will shape how millions of people perceive structures of power, and relate to each other, for decades to come.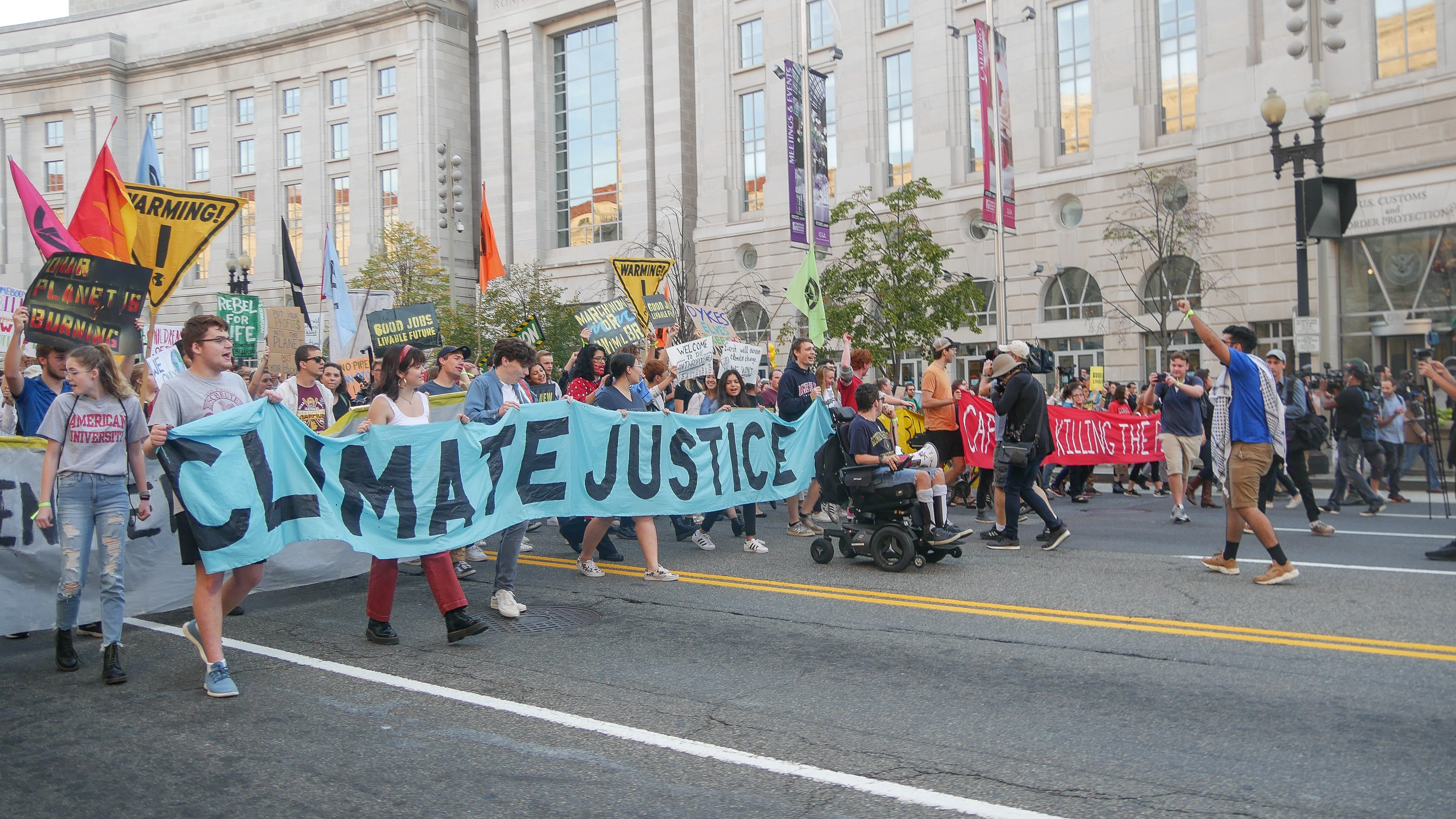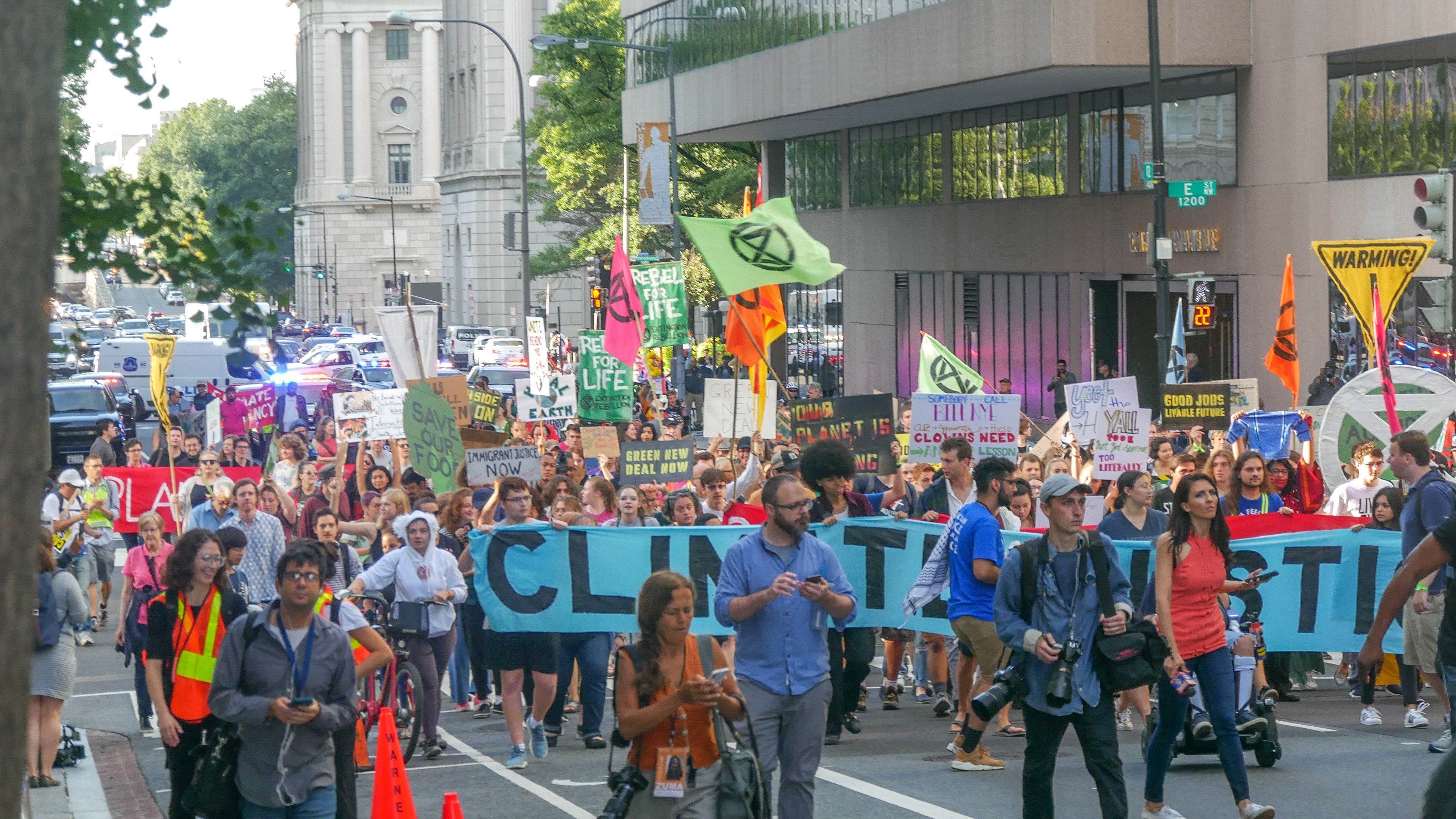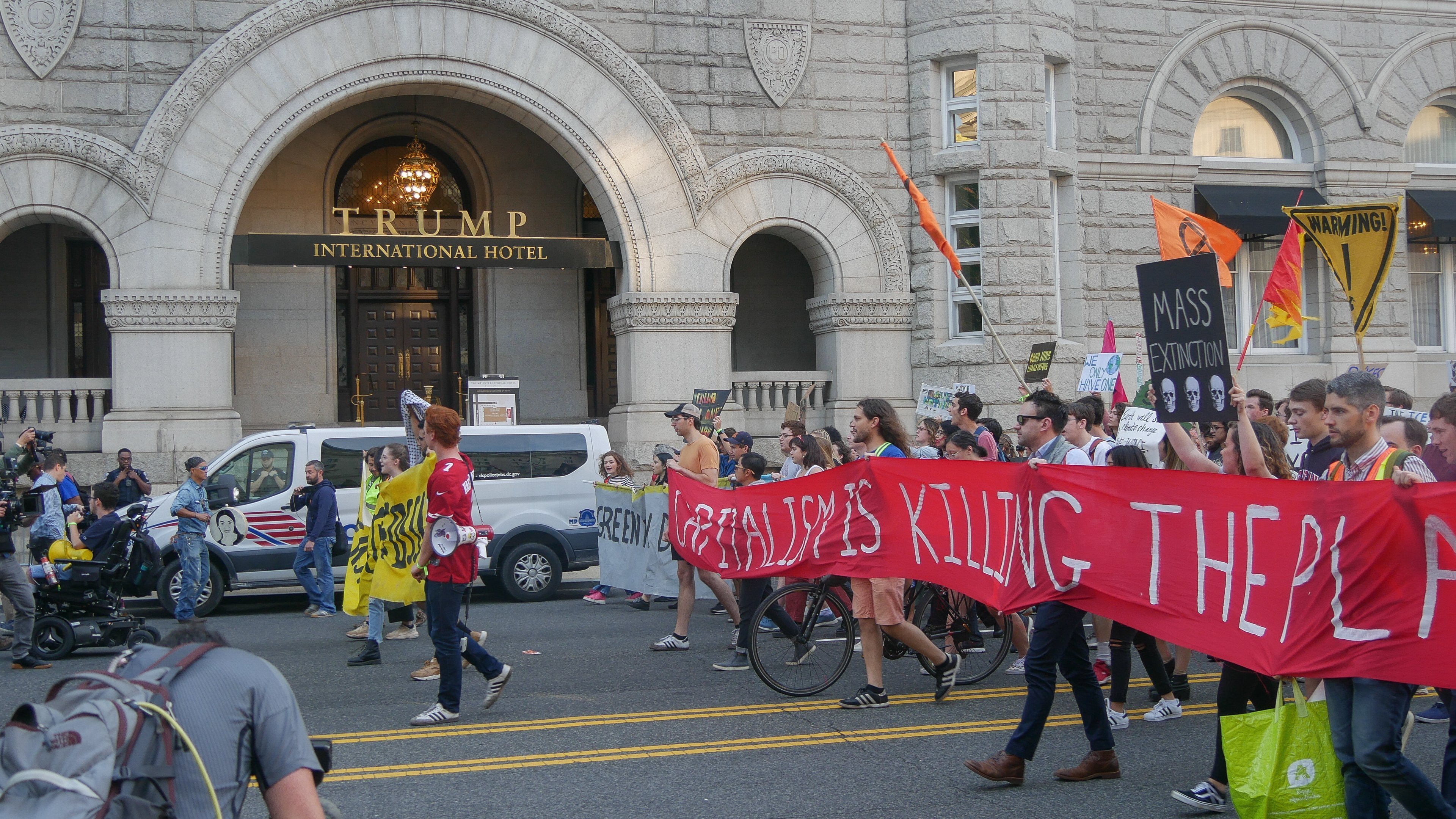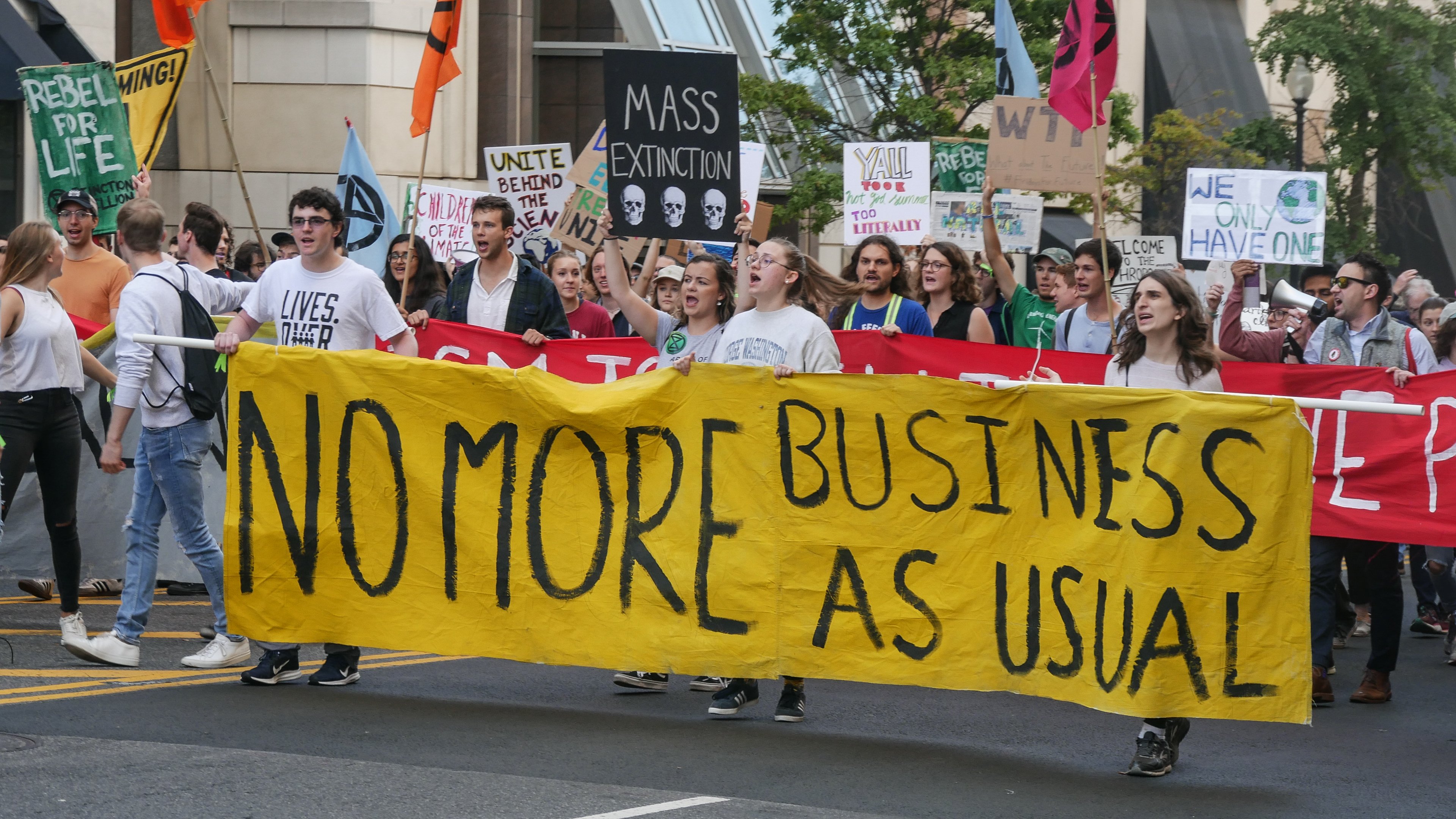 It's clear by now that we can't depend on public officials and private institutions to suddenly become enlightened and sever their financial dependencies on corporations that profit from Earth's destruction. Politicians will continue to downplay large-scale climate solutions to appease their corporate donors. Corporations will continue to knock down climate action in an effort to run the clock on their short-term profits until it's too late for fundamental change. Most nonprofits will continue to stay on the sidelines, as they are also dependent on corporate relationships and political support.
This arrangement will never produce the structural change we need to address the severity of our circumstances, which is why we've reached the point of shutting down cities.
Placing a boat on the center of D.C. and blocking major interceptions to bring attention to the global climate emergency might appear bizarre to some. However, not doing anything about our impending crisis, while being infantilized by media conglomerates, guarantees our self-destruction. When we take into account that our "leaders" have failed to act on this issue for decades, then taking the emergency to the streets of the most powerful capital in the world is not only the common sense thing to do, but it's one of our last remaining hopes to put sufficient pressure on the governments and industries that are running us to the ground.
It was a privilege to document and march with the Shut Down DC coalition in September. I hope more people join the growing climate movement beyond the confines of dominant culture, social media, and the beltway press. For more information about Shut Down DC visit www.strikedc.org.
Video: September 27 Shut Down DC March