In 2018, YouTube's product chief Neal Mohan revealed that more than 70% of the total time spent watching videos on the site is determined by artificial intelligence. "And if you're watching on mobile, the average watching session lasts more than 60 minutes, because of what our recommendations engines are putting in front of you," Mohan said at the time, according to CNET.
YouTube's recommendations have fueled discussions about the 'radicalization traps' that are formed as a result of pushing viewers into increasingly extreme content streams in the name of "engagement." There's clearly a demand for YouTube's services when it comes to radicalizing content—official reports on recent acts of terrorism have shown that the perpetrators regularly watched and searched for such videos online.
Since the deadly riot at the U.S. Capitol on January 6, 2021 was organized through a patchwork of Facebook groups and other known and unknown social media channels, many are starting to realize that online coordination and daily nudging from political operatives can and does lead to real-world violence. Given the severity of the issue, YouTube, Facebook, and Twitter pledged to crack down on white nationalist videos, post, and tweets. As some have pointed out, however, enacting selective editorial decisions every time shit hits the fan is a far cry from addressing the fundamental business models behind top social media sites. "The problem goes far deeper than the identification and removal of pieces of problematic content," a New Zealand government spokesperson told WIRED, after the deadly March, 2019 attack on two mosques in the country. "The same algorithms that keep people tuned to the platform and consuming advertising can also promote harmful content once individuals have shown an interest."
Indeed, individual "problematic" accounts and posts are symptoms of an ecosystem that's sustained by elite ad buyers who pay to have access to users' feeds. Just like regular media companies, social media executives monetize content through advertising and their moderators make world-defining decisions every day. This is why, at least to me, "curated media" is a much more accurate term to describe what those companies represent.
Considering YouTube's inability and unwillingness to address issues on its platform, and its continuous exploitation of content producers and users, it's worth asking: how useful is the website when it comes to discovering credible videos through its Search section?
Let's use Medicare for All (M4A for short), a topic that has become a staple in national conversations, as an example. The U.S. is the only developed country without universal healthcare. There are a number of studies outlining the benefits that such a system could provide to millions of uninsured Americans. Some politicians, unions, and grassroots organizations have declared Medicare for All their top priority. Support for the initiative continues to rise, thanks to the efforts of organizers throughout the country and a pandemic that's steadily destroying our communities. Recently, popular commentators entered heated online discussions about the merits of a "Force the Vote" campaign, which called for progressives in Congress to not support Nancy Pelosi's bid for Speaker, unless she brings Medicare for All to a floor vote.
Very little of what's mentioned above seems to factor in YouTube's search results. In fact, when I search for "Medicare for All" on YouTube, some of the top results come from people and organizations that actively misrepresent what M4A stands for and use their perceived expertise to cast doubts about implementing a single-payer healthcare system in the U.S.
While no bill or cause should be above public scrutiny, a substantial number of top Medicare for All video results on YouTube aim to instill fear and confusion in viewers. Some common talking points against implementing universal healthcare in the U.S. are that it's an "anti-American" idea (PragerU), there will be "inevitable" reductions to access and quality of care (Hoover Institution), it would "collapse" the system (eHealth CEO), and it's a "job killer" (Fox News). These takes shouldn't surprise us—corporations spend millions lobbying against Medicare for All and its proponents.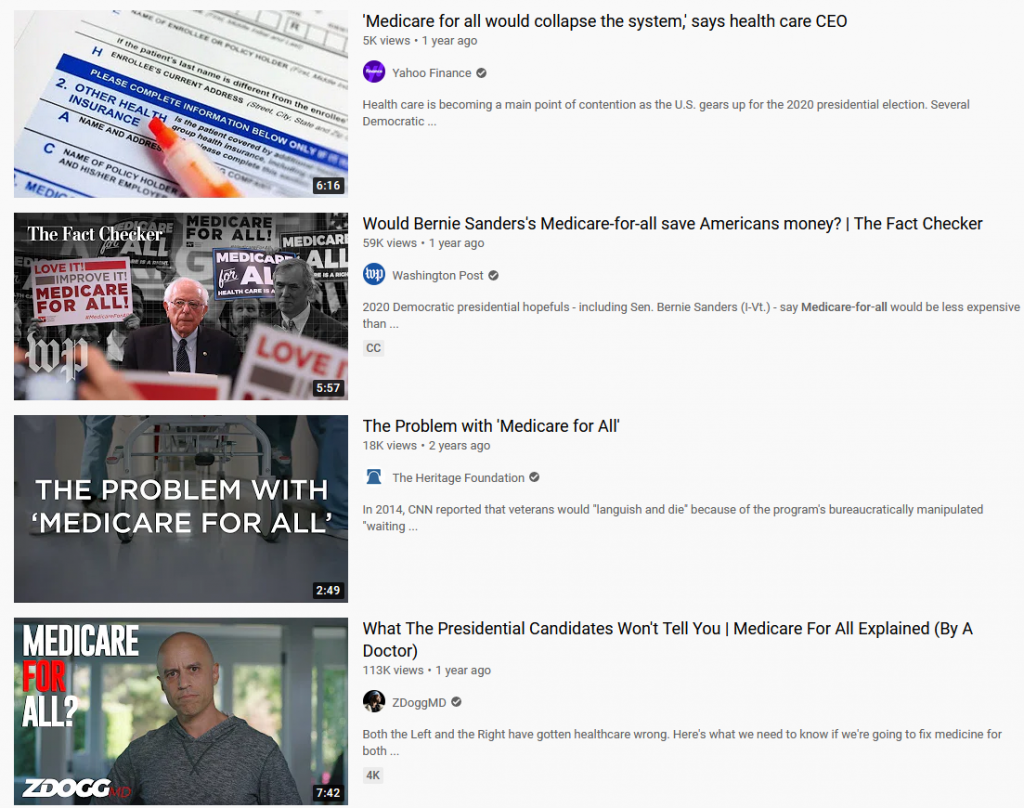 It's easy to see how this arrangement trickles down to YouTube, the world's largest online video-sharing platform. First, there's an obvious lack of relevant content—while this analysis was conducted in January, 2021, most videos that pop up are from 2019, before Covid-19 entered our lives. Still, some of the most inflammatory propaganda directed against Medicare for All was published while the virus was taking a heavy toll on thousands of Americans. In addition to being outdated, top search results for Medicare for All tend to come from mass media conglomerates, externally-funded influencers, and news pundits, rather than the user community. Videos from Verizon, Comcast, HBO, News Corp., and the The Heritage Foundation tend to surface above other accounts, which makes the top search results identical to what one would watch on TV.
There are many reasons why some videos appear first on YouTube searches—high comment count, length of video, number of shares, etc.—and these factors are further influenced by the ability of corporations to invest across social media networks in order to further disseminate their content. While there's little we can do about YouTube's idea of "fair and balanced," proponents for Medicare for All in the U.S. can use this analysis to familiarize themselves with how different groups and individuals spread misinformation about universal healthcare. For example, a lot of anti-M4A content fails to mention the true extent of the U.S. healthcare crisis and the number of lives that could be saved through a single-payer system.
Listed below are the 25 top videos that show up when I search for "Medicare for All" on YouTube (along with their date of publication, length, and sources of funding) in the order that they appear in my results. While this is clearly not a scientific study and YouTube's search considers "many signals," I am curious to know how many of the same videos show up first when others search for the term.
Top 25 Search Results For 'Medicare For All'
Medicare for All: Last Week Tonight with John Oliver (HBO) |Feb 17, 2020 | 19:53
"John Oliver explores how much it might cost, what it will change, and who it will help," while fishing for laughs. One of the few videos that explicitly supports Medicare for All, but the overall goal is to entertain, not to inform. Home Box Office is an American pay television network owned by WarnerMedia Studios & Networks.
Medicare For All: What Does it Actually Mean? | Mar 25, 2019 | 7:54
Healthcare Triage is a YouTube channel hosted by Dr. Aaron Carroll who "explains healthcare policy, medical research, and answers a lot of other questions you may have about medicine, health, and healthcare." "There are always trade-offs," Dr. Carroll says, "if we increase access through universality, we can expect an increase in cost." The introduction to this video notes that support was provided by the Robert Wood Johnson Foundation. The Robert Wood Johnson Foundation is the United States' largest philanthropy focused solely on health.
What Is (and Isn't) Medicare for All | WSJ | Jul 23, 2019 | 7:16
Wall Street Journal provides its take, which mostly consists of praising supplemental private insurance in other countries. The video claims that 95% of people in France "are covered by supplemental insurance" in addition to government insurance, creating the notion that the private sector in France plays a major role in delivering healthcare. When you look into that statistic it's easy to see what's been omitted: "95% have complementary coverage from nonprofit carriers, either through employer or means-tested government vouchers." The Wall Street Journal is controlled by Rupert Murdoch via Dow Jones Publications, which in turn is owned by Murdoch's News Corp.
How Medicare-For-All Works In Australia | Sep 2, 2019 | 8:11
CNBC reports on Australia's healthcare. CNBC is an American pay television business news channel that is owned by NBCUniversal News Group, a division of NBCUniversal, with both being ultimately owned by Comcast.
What is Medicare for All? | December 30, 2019 | 4:31
Whoever made the video had good intentions, but it repeats common misconceptions. It also looks like an amateur video, compared to the highly produced pieces so far. It was created by "Illustrate to Educate."
Can Medicare For All Reduce the Cost of Care? | Intellections | June 9, 2020 | 1:26
This one takes the cake when it comes to anti-Medicare For All propaganda. It turns out the video was produced by the Hoover Institution at Stanford University, a "public policy think tank that seeks to improve the human condition by advancing ideas that promote economic opportunity and prosperity, while securing and safeguarding peace for America and all mankind." The animated video claims that doctors will find "their salaries slashed" and many hospitals "could go out of business." The Hoover Institution receives nearly half of its funding from private gifts, primarily from individual contributions, and the other half from its endowment.

Medicare for All and Administrative Costs | November 18, 2018 | 6:41
Another video from Healthcare Triage. No mention of external sponsor like the previous video.
The Real Deal with Medicare for All | Robert Reich | November 19, 2019 | 5:13
"Former Secretary of Labor Robert Reich breaks down the true cost of Medicare for All." One of the few top results that looks at Medicare for All from the perspective of the public, rather than insurance companies.
Would Bernie Sanders's Medicare-for-all save Americans money? | The Fact Checker | May 30, 2020 | 5:56
The Washington Post asks whether Medicare for All will save money, but it's clear this clip is directed against Bernie Sanders. In essence, the Jeff Bezos-owned newspaper claims Sanders is inflating the dollar amount families pay for healthcare, citing some of his tweets as evidence. Sanders has previously used the amount paid by employers and families ($28,000) to point out how much the average family pays for healthcare in the U.S.; WaPo's clip describes this as "misleading" and claims the "visible cost" for families is a little over $12,000. The video goes on to question the studies referenced by the Sanders campaign because "results depend on assumptions about uncertain factors." The outlet has a history of regularly attacking Sanders. In October 2013, the Graham family sold the newspaper to Nash Holdings, a holding company established by Jeff Bezos, for $250 million.

The Problem with 'Medicare for All' |November 30, 2018 | 2:48
This is where the hit pieces get even less subtle. The video produced by The Heritage Foundation hits on all talking points: that universal healthcare means "total government control," that it will "eliminate" all kinds of other insurance, that British people "spend less" and also "get less" for their money. This framing characterizes most propaganda against Medicare for All. The Heritage Foundation is an American conservative think tank based in Washington, D.C., primarily geared towards public policy. The foundation took a leading role in the conservative movement during the presidency of Ronald Reagan, whose policies were taken from Heritage's policy study Mandate for Leadership.
What The Presidential Candidates Won't Tell You | Medicare For All Explained (By A Doctor) | Sept 7, 2019 | 7:41
ZDoggMD claims presidential candidates "on the left" are not telling you everything you need to know; states that if we expand Medicare, hospitals will go "out of business," or "we are gonna have to make up the three trillion dollars through higher taxes." "That is very, very expensive and no one is talking about that." Toward the end, ZDogg advocates for "catastrophic insurance," "everything else … is either out-of-pocket, or it can be subsidized by your employer or subsidized by the government if you are really poor." Zubin Damania, MD. Stanford-trained doctor, entertainer, and host of The ZDoggMD Show.
Bernie Sanders on the role of insurance companies under "Medicare for All" | April 10, 2019 | 2:30
One of the few videos that features Sanders. "It guarantees like every other major country on Earth, healthcare to every man, woman, and child in this country," he says before being asked about socialism and how expensive Medicare for All would be. The second merger between CBS Corporation and Viacom, creating the combined company ViacomCBS, was announced on August 13, 2019; the merger was completed on December 4, 2019.
Universal Coverage: Is "Medicare for All" the Answer? | Apr 1, 2019 | 1:11:27
An hour-long discussion which took place at UC Berkley. This is the first video that is longer than 20 minutes and includes a live discussion from multiple people who work, or have worked, in healthcare.
Debunking a Huge Medicare for All Myth | December 9, 2019 | 1:45
It is here, about 15 videos down the list, that the Almighty Algorithm decides to bring up content from Bernie Sanders's actual account. "Here is why you shouldn't believe the health industry's lies about Medicare for All."
David Pakman Explains the Problem with Medicare for All | Joe Rogan | June 5, 2019 | 11:17
YouTube political commentator David Pakman talks about Medicare for All on The Joe Rogan Experience. "It's very hard to change people's minds," says Pakman. Rogan states that the "UK system sucks." The two discuss differences between the Canadian and UK healthcare systems and how there's "no perfect system." Rogan claims that really good doctors are "incentivized by profit."
The lingering questions about Medicare-for-all | March 11, 2019 | 4:57
The Washington Post focus on questions around paying for M4A, stating that "many voters aren't as supportive of paying more taxes to fund Medicare for All." "And no one can quite agree on what would happen to the huge private insurance market after healthcare is government run, or if people can keep their current coverage."
Progressives Pressure Democrats on Medicare for All vote| Jan 1, 2021 | 6:44
In the fist video that comes up from 2021, Fox News commentators defend Nancy Pelosi and criticize efforts to pressure progressives. "Joe Biden has been against Medicare for All, he said it from the beginning," one commentator says. "He wants to bring Republicans to the table." Fox Corporation is an American mass media company headquartered in New York City. It is owned by the Murdoch family via a family trust.
Biden's H.H.S. Pick Xavier Becerra Supports Medicare For All | NowThis| Dec 9, 2020 | 3:48
"Xavier Becerra, Biden's pick to lead the dept of health, has expressed support for Medicare for All — but the president-elect himself doesn't have plans to pursue the policy." NowThis News is a progressive social media-focused news organization founded in 2012.
John Delaney favors universal health care, but not Medicare-for-all | December 27, 2018 | 2:02
John Delaney talks about a "new system" in which "a private market floats above the government market." The interview doesn't provide a lot of details on Delaney's plan and how he would implement it. CNBC is an American pay television business news channel that is owned by NBCUniversal News Group, a division of NBCUniversal, with both being ultimately owned by Comcast.
Medicare for All Could Save the US $2 Trillion | August 23, 2018 | 3:41
Another video from Healthcare Triage. No mention of external sponsor. Quote: "If you think you can massively drop spending and reimbursement, and see no changes in quality and access, if you think there are no trade-offs in healthcare, then you haven't watched Healthcare Triage."

Do Millennials Know How Medicare For All Works? | August 14, 2019 | 14:28
The Heritage Foundation podcast asks people "around Washington DC" about Medicare for All. The host asks how they would pay for Medicare for All, before interviewing a Heritage Foundation expert. "We know government-run programs don't really work," the commentator states and attempts to "debunk" the interviewees who expressed support for M4A. "For a majority of Americans, that would be more than what it costs to pay for your premiums right now … Ironically, Medicare for All abolishes your choices and raises your costs to more than what they currently are. The host and the commentator agree it's a "lose-lose situation". The Heritage Foundation is an American conservative think tank based in Washington, D.C., primarily geared towards public policy.

Medicare For All Myths Debunked By Dr. Danielle Martin| September 17, 2017 | 14:28
"TYT Politics Reporter Nomiki Konst spoke with Dr. Danielle Martin, a physician and professor at the University of Toronto, about what Medicare For All would bring to the American healthcare system." One of the few left-leaning accounts that manage to appear in the top results and features someone who speaks from direct experience. The Young Turks (TYT) is an American liberal and progressive news and opinion show on YouTube that additionally appears on selected television channels.

Going Beyond The Top Results
Here's a video recording that shows the kinds of videos that pop up beyond the first 25:
Below is a rough estimate of the YouTube accounts that showed up in the video above, their subscriber count, as well as the number of times those accounts appeared in the search results. It should be mentioned that most users don't scroll for minutes to find their results, so this round up aims to show what type of content surfaces (and what doesn't) when someone searches for "Medicare for All" on YouTube and from what sources. Clicking each link reveals results that are associated with M4A from that particular YouTube account.
Libertarian media
Reason TV | 618L subs (1 video)
Relevant Results for Medicare for All?
Even though the devastating effects of social media monopolies and the urgency to implement Medicare for All have attracted considerable attention in the media, those issues are rarely discussed together. Perhaps, to some, the list above represents a balanced and inclusive view of the healthcare crisis in the U.S. To me, it's a product of a soulless technocracy which hides the cruel treatment of its citizens behind algorithms and highly-produced hit pieces that would make Edward Bernays proud.
While any attempt to reform a broken system is bound to face considerable challenges, popular critiques against Medicare for All often present assumptions as facts and misinform the public. There's a reason why the number of deaths and bankruptcies caused by lack of health insurance don't make it into most anti-M4A videos — they are evidence of the system's cruel treatment of millions of human beings. Unfortunately, the problem goes much deeper than widespread apathy from influencers and online personalities — even those who claim to care about Freedom and Democracy produce content that casts doubt on universal healthcare.
You don't have to study algorithms for a living or have a PhD in Political Science to see how videos with seemingly neutral titles like "Can Medicare For All Reduce the Cost of Care?" and "Would Bernie Sanders's Medicare-for-all save Americans money?" reduce the issue to a couple of talking points, while ignoring the experiences of millions of Americans. Those clips never seem to produce a straight answer to their questions and instead spend a considerable amount of time attacking proponents for Medicare for All. Another notable example is PolitiFact's "Did Biden overstate voters' opposition to Medicare for All?" in which the hosts conclude that Biden did not, in fact, overstate voter opposition to Medicare for All, despite acknowledging that survey questions on the issue can be misleading. In some cases, we even see how opposition to Medicare for All can make Fox New pundits do the unthinkable and praise Nancy Pelosi and Joe Biden for speaking against universal healthcare.
It's clear that one side of the Medicare for All debate has a much more robust representation on mainstream media and YouTube than the other. While some suggest that amplifying establishment media would help counter extremist content, YouTube's top results for something as innocuous as providing healthcare to all of its inhabitants show that traditional news outlets also use their platforms to divide the public. YouTube claims that it "strives to surface the most relevant results according to keyword queries," but its search results for a cause addressing preventable death and bankruptcy point to outdated, polarizing videos coming from corporate news and right-wing think tanks. Pro-M4A results from left-wing media (The Young Turks, Democracy Now!, and Secular Talk, for example) tend to appear only after a rotation of network shows and conservative organizations.
YouTube also claims that "videos are ranked based on a variety of factors including how well the title, description, and video content match the viewer's query." These factors are constantly discussed by marketers looking to place their videos further in YouTube's ranking. As seen above, top videos not only have misleading titles, but they lack ideological and class diversity, feature mostly white males, and fail to mention basic facts about America's healthcare crisis, such as how many are uninsured and why. To their credit, most videos in the top results are relatively short, which doesn't leave much room for nuance.
Growing public support for Medicare for All—despite countless efforts to misguide the public about it, digitally and otherwise—is evidence that YouTube search results do not reflect public opinion. At the same time, it's clear that we can't trust YouTube with curating vital information to the public. The issue goes far deeper than individual accounts and posts. Without addressing the exploitative relationship between advertisers and regular users, the outsize scale and profit-above-all attitude of those companies will continue to be at odds with their role as managers of public communication. As savvy, profit-driven marketers, they will keep promoting content produced against the public interest, because there's a financial incentive to do so.
Further analysis of how progressive causes are framed on YouTube can point out efforts that aim to mislead the public, and help us imagine alternative platforms in which credible content can reach millions without being buried underneath corporate propaganda.